The Flying Knights McKinley Mall Show went over smoother than ever before, with complete cooperation from the mall management, as well as advertising coverage on both our own and the mall's websites. 37 models - including a boat and a helicopter - put in appearances, and drew large crowds each day of the show.


Another large draw was the flight simulator, which proved quite popular. The simulator was a Great Planes Real Flight Deluxe R/C Simulator, and entertained adults, kids and Knights members for several hours each day.
The Delta Darts proved every bit as successful as hoped. Over 125 of the little planes were constructed and given away over the course of the show.
The annual raffle of an airplane did well at the show, generating 190 ticket sales at the mall, and a further 62 tickets were sold at Fields. The aircraft - a Zero model - will be raffled during our Scale Rally
The show also generated interest in our club and our hobby, prompting several people to take flyers or sign up for our mailing list. The 2000 Mall Show was clearly a huge success for the mall, the Knights, and the spectators, and all involved look forward to the show next year.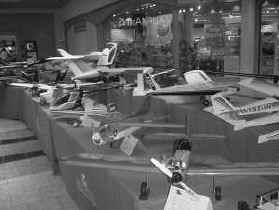 Chinese Auction
During this quarter, the club held its annual Chinese auction. This event has become a tradition over the years as a way for members to get rid of some of the junk that clutters their basement.
The beneficiary, of course, is our North Collins Flying field. Each year we have been able to make improvements to the field. The Chinese Auction helps to defray some of the cost of these improvements. Some of the things that we have implemented in recent years are a new drainage field to help the field to dry out earlier in spring and some changes in the parking and access to the field.
Those knights who use the North Collins field are very appreciative of the many changes that have been made at the field over the years.